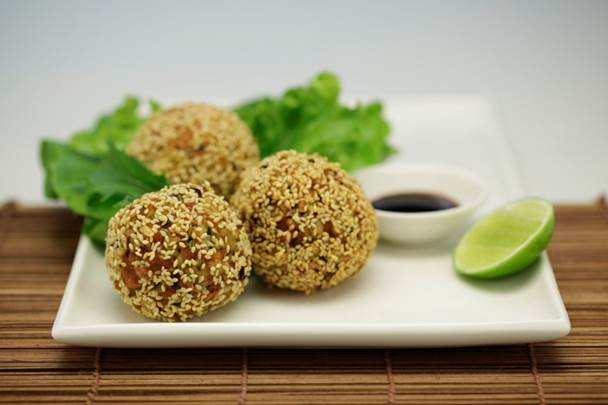 40 minutes (including 30 minutes resting time)| Serves 8
2 x 95g tins SAFCOL Responsibly Fished Tuna in Springwater, drained
1 cup grated carrot
3 cups well cooked brown rice
2 tbsp pumpkin seeds
3 tablespoons tamari soy sauce
3 tablespoons tahini
2 spring onions, finely chopped
Small bunch parsley, chopped
Sesame seeds for rolling
Good quality oil for cooking (grape seed, coconut or rice bran are all great)
Step 1

- Cook carrot in a saucepan with a little olive oil until soft.
Step 2

- Cool slightly and combine with the brown rice, tuna, pumpkin seeds, tamari, tahini, spring onion and parsley.
Step 3

- Mix the rice and vegetables until the mix starts to hold together. This is an important process and should take about 5 minutes.
Step 4

- Form into even sized round balls, roll in sesame seeds then place onto a tray and into the fridge for about 30 minutes to set a little.
Step 5

- Heat the oil in a large heavy based saucepan over a medium heat. Cook for a few minutes each side until golden then drain onto paper towels
Step 6

- Serve alone or with a fresh leafy salad accompanied by either tamari soy sauce, sweet chilli or hoisin.