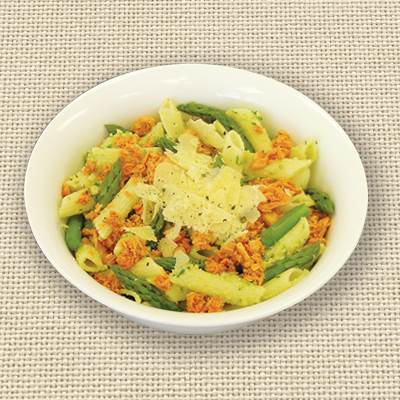 2 x 95g cans Safcol Premium Salmon with Lemon & Pepper
3 cups penne pasta
Pesto
1/2 cup (100 g pkt) toasted almond slithers
1 tablespoon garlic, finely chopped
2 bunches asparagus
1 tablespoon lemon juice
1/2 cup parsley leaves
1/2 cup extra virgin olive oil
1/4 cup grated parmesan
Step 1

- Cook pasta in boiling salted water until al dente or as per packet directions. Drain and set aside.
Step 2

- Trim 2–3 cm from the asparagus stems to remove the 'woody' part. Cook asparagus in boiling water for about 2 minutes, until tender.
Step 3

- Drain and place in a bowl of cool water to refresh the asparagus. This ensures it retains its bright green colour. When cool remove from the water, pat dry and chop into bite-sized pieces.
Step 4

- Open the cans of salmon and drain.
Step 5

- To make the pesto, blend the almonds in a food processor and, in this order, add the garlic, 3/4 of the asparagus, lemon juice, parsley, oil and parmesan. Blend until a paste is formed.
Step 6

- In a large mixing bowl toss together salmon, 1/2 a cup of the pesto, cooked pasta and the remaining cooked asparagus pieces.
Step 7

- Divide between two serving bowls and serve as a warm main course or as a cold salad.