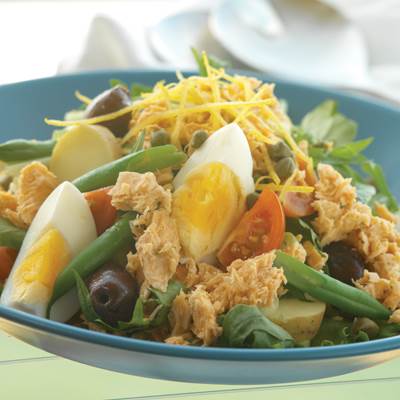 Serves 2
1 x 100g pouch Safcol Salmon with Lemon & Dill in Springwater
4 potatoes, scrubbed (kipfler or other waxy yellow-fleshed potatoes)
2 eggs
8 green beans
1 cup small leaf salad (baby spinach or rocket)
1 tablespoon flat-leaf parsley, coarsely chopped
1 tablespoon spring onion, finely sliced
1 tablespoon fennel, shaved
1 teaspoon capers, washed
1 lebanese cucumber, sliced into matchsticks
10 kalamata olives, pitted
6 cherry tomatoes, sliced in half
juice and rind of 1 lemon
Dressing
1 clove garlic, finely diced
3 teaspoons extra virgin olive oil
2 teaspoons seeded mustard
1 tablespoon balsamic vinegar
Step 1

- Bring 1L of water to the boil in a large pot. Place the whole potatoes in the water and boil for 8 minutes.
Step 2

- Add the 2 eggs (whole) and boil together with the potatoes for a further 3 minutes.
Step 3

- Add the beans and boil for a further 2 minutes
Step 4

- Check that the potatoes are cooked through, then drain. Place the potatoes, eggs and beans in cold water to refresh and cool. Once cool, slice the potatoes into 1 cm rings and place in a salad bowl. Slice the beans into 4 cm diagonal strips and add to the potatoes.
Step 5

- Peel the eggs and set aside. Open the salmon pouch.Place the salmon and other ingredients in the salad bowl. Toss the salad and leave in the salad bowl or divide between 2 deep dinner plates
Step 6

- Cut the eggs, which should be just set, into wedges and add to the salad
Step 7

- To make the dressing, place 1 teaspoon olive oil in a tiny saucepan and gently heat the garlic. Add the remaining dressing ingredients and stir to combine
Step 8

- Pour over the salad, season with salt and pepper and serve