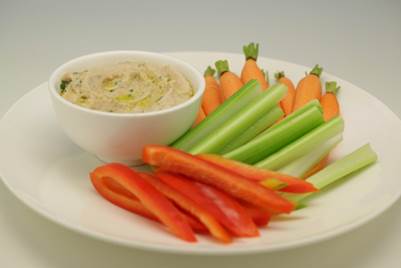 15 minutes| Serves 2
2 x 95g tins Safcol Responsibly Fished Tuna, drained
1 onion, chopped
2 cloves garlic, chopped
1 x 400 g tin cannellini beans, drained
1 lemon (optional)
Sea salt and pepper
Chopped parsley + mint
400 g mixed raw vegetables
Step 1

- Sauté the onion and garlic in a pan for a few minutes to soften.
Step 2

- Add into a food processor along with tuna, beans, a little lemon zest and juice if using and pepper.
Step 3

- Blend into a smooth puree, adding a little water if necessary. Taste for seasoning and adjust.
Step 4

- Add the fresh herbs then process again for another few seconds until mixed through.
Step 5

- Spoon into serving bowls and drizzle with a little extra virgin oil.
Step 6

- Serve alongside fresh seasonal vegetables (baby carrot, capsicum, celery) or alternatively, pile onto bruschetta and enjoy. Makes a terrific high protein lunch or snack.