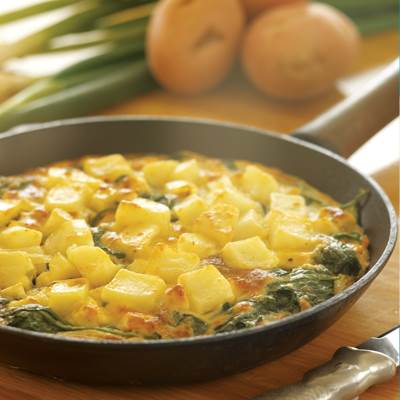 Serves 2 – 4
2 x 95g cans Safcol Skinless & Boneless Salmon with Lemon & Dill
2 medium potatoes, diced into 2 cm squares (kipfler or other yellow-fleshed waxy potatoes)
2 tablespoons olive oil
2 handfuls baby spinach
6 eggs
1 tablespoon fresh dill, chopped
Sea salt and ground pepper, to taste
100g fetta, cubed
Optional
1 tablespoon capers
2 tablespoons semidried tomatoes
Step 1

- Preheat the grill.
Step 2

- Bring a pot of water to boil and cook potato squares for no more than 10 minutes until parboiled. Drain well.
Step 3

- Heat olive oil in a non-stick frying pan (approximately 20cm wide)
Step 4

- Sauté the parboiled potatoes in 2 batches until potatoes are slightly golden in colour. Set potatoes aside.
Step 5

- Briefly heat the spinach in the same non-stick pan until it has wilted and remove.
Step 6

- Lightly beat eggs in a mixing bowl with dill, and season with salt and pepper
Step 7

- Return 1/2 the potatoes to the frying pan and over a low heat add half the egg mixture. Cook for 10 –12 minutes until the egg mixture is beginning to firm. Remove from the heat and top with salmon, spinach, fetta and half the parmesan Add the capers and semidried tomatoes if you like.
Step 8

- Pour the remaining egg mixture on top of the salmon and spinach and then add the remaining potatoes and parmesan at the same time
Step 9

- Place under the grill. It is ready when the top is golden and the egg mixture is firm.
Tips:
If the centre is still slightly uncooked place in the oven at 170°C (325°F/Gas3) for 10 minutes. Allow the frittata to cool in the pan for 15 minutes and then cut into wedges.