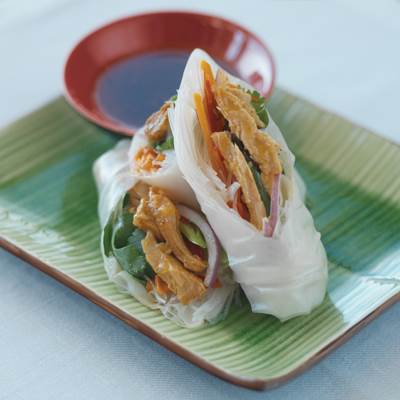 Serves 4
2 x 95g cans Safcol Responsibly Fished Tuna Sweet Chilli
100 g packet vermicelli noodles
2 tablespoons lime juice
2 tablespoons fish sauce
1 teaspoon sugar
1 teaspoon sesame oil
1 chilli, seeded and diced
4 rice paper wrappers (available from Asian grocers)
1 leaf soft lettuce shredded into 4 pieces
2 tablespoons mixed fresh herbs (any or all of the following; basil leaves, mint, coriander, Vietnamese mint)
2 tablespoons carrot, capsicum, red onion (chopped thinly like matchsticks)
Garnish
crushed peanuts, crispy fried onion
enoki mushrooms (optional)
Step 1

- Soak the vermicelli noodles in hot water for up to 10 minutes until rehydrated. Drain thoroughly.
Step 2

- Mix the lime juice, fish sauce, sugar, sesame oil and chilli together. Toss 1 tablespoon of the mixture through the vermicelli.
Step 3

- Fill a shallow dish wide enough to soak the rice paper wrappers in about 5 cm of warm water. Immerse a rice wrapper for about 10 seconds in the water until rehydrated. Remove from the water and spread the wrapper on a clean tea towel on a flat surface.
Step 4

- Place 1 piece of soft lettuce and 1/2 tablespoon of the herbs onto the rice paper roll followed by a 1/2 tablespoon of vegetables, 1 tablespoon of vermicelli, 1 tablespoon of tuna and any of the optional garnishes
Step 5

- Fold the bottom of the rice paper over centre and roll it up so that one end is exposed or alternately roll up like a spring roll.
Note: Cold rolls sometimes split due to tiny holes or cracks in the wrapper so either start again with a fresh skin or double wrap the roll.
Tips:
Serve with sweet chilli sauce or nuoc cham sauce (nuoc cham sauce is a combination of the juice of 1/2 a lime, 1 tablespoon fish sauce, 1 tablespoon sugar, 1 clove crushed garlic and diced chilli)