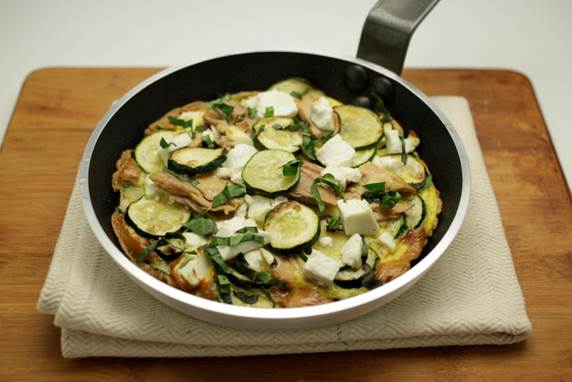 10 mins| Serves 1
1 x 95g tin Safcol Responsibly Fished Tuna in Springwater, drained
1 tbsp olive oil
1 zucchini, sliced
2 organic or free-range eggs
Freshly chopped parsely or basil leaves
A little pepper
25g feta cheese, lightly crumbled
Step 1

- Using a small non-stick frying pan, sauté the zucchini in a little olive oil until soft and season with a little pepper
Step 2

- Break the eggs into a bowl and whisk lightly with a fork. Pour over the zucchini and stir lightly to combine
Step 3

- Add the tuna, herbs and crumble over the feta
Step 4

- When the eggs have just set your frittata is ready and you can slide it onto a plate and serve.
Alternatively – Finish off in a hot oven for 3 minutes until the top is set. Remove from the oven, garnish with a little more fresh herbs.
Tips:
Serve and enjoy. Option: squeeze over a little lemon just before eating.