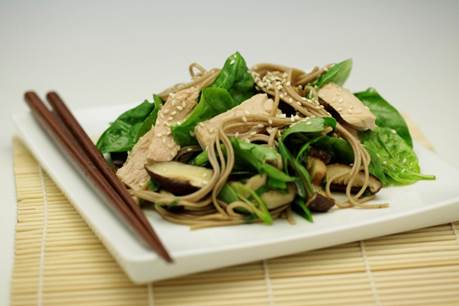 10 minutes| Serves 1
1 x 95g tin Safcol Responsibly Fished Tuna in Springwater
100g dried soba noodles (100% buckwheat)
Handful baby spinach leaves
Small bunch mint leaves, chopped
2 spring onion, sliced
2 tsp sesame seeds
Dressing
1 tbsp tamari
1 tbsp apple cider vinegar
1 tsp sesame oil
1 tbsp mirin
Step 1

- Cook the soba noodles in boiling water, according to the package directions. Immediately drain the noodles and rinse under cold water.
Step 2

- Whisk together the soy sauce, mirin, vinegar and oil in a large bowl
Step 3

- Toss the cold soba with the dressing, tuna, baby spinach, mint and spring onion
Step 4

- Place onto a serving plate and top with sesame seeds. Enjoy.