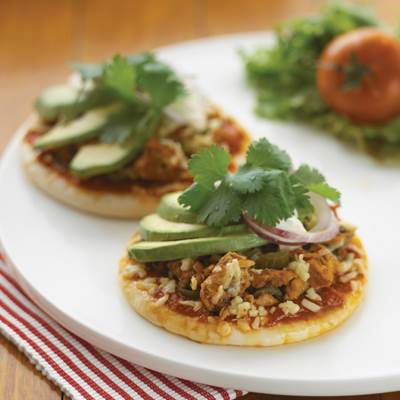 Serves 2
2 x 95g tins Safcol Premium Salmon in Springwater
2 tablespoons olive oil
2 tablespoons red onion, very finely sliced
4 tablespoons capsicum, sliced
1 tablespoon tomato paste
6 tablespoons pre-made napoletana sauce
2 ready-made small pizza bases
1–2 tablespoons jalapeño peppers (a hot green chilli available in jars from supermarkets)
2 tablespoons cheddar cheese, grated
1/2 avocado, sliced
2 tablespoons sour cream
4 sprigs fresh coriander leaves
1/2 teaspoon paprika
1 teaspoon Cajun spices
Salad with lime and honey dressing
1/2 lime
1 teaspoon honey
1/2 clove garlic, crushed
2 tablespoons olive oil
salt and pepper, to taste
2 cups fresh salad greens
Step 1

- Empty salmon into a bowl and sprinkle over 1 teaspoon of Cajun spices. Stir through and set aside.
Step 2

- Heat oil in a small frying pan and cook onions until golden. Add capsicum and fry until softened. Add tomato paste and stir through for 1 minute. Stir in the napoletana sauce.
Step 3

- Top the pizza bases with this mixture and sprinkle evenly with the salmon and slices of jalapeño.
Step 4

- Sprinkle cheese over the top and bake at 180°C (350°F/Gas4) for about 15 minutes or until bases are crisp and cheese is slightly golden.
Step 5

- Remove from the oven and top with avocado slices, sour cream and fresh coriander. Sprinkle the paprika over the cheese.
Side Salad
Step 1 – Combine lime, honey, garlic and oil in a small bowl or jug. Season with salt and pepper.
Step 2 – Place salad greens in a larger bowl and toss with the dressing.