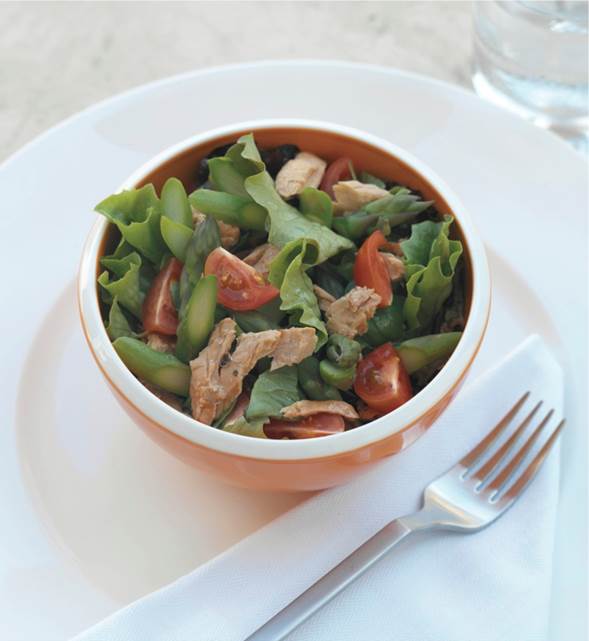 Serves 2
1 x 95g can Safcol Responsibly Fished Tuna in Springwater, drained
1 bunch asparagus (approximately 6 pieces)
2 cups mixed salad leaves
Juice of 1 lemon or lime
1 punnet cherry tomatoes
Garnish
8 basil leaves, hand-shredded
sea salt and ground pepper, to taste
Dressing
1/2 teaspoon sesame oil
1/2 teaspoon oyster sauce
2 tablespoons vinegar
2 tablespoons sunflower oil
1 tablespoon soy sauce
Ground black pepper, to taste
Step 1

- Empty salmon into a bowl and sprinkle over 1 teaspoon of Cajun spices. Stir through and set aside.
Step 2

- Trim 2–3cm from the asparagus stems to remove the 'woody' part. Bring a saucepan of salted water to the boil, drop the asparagus in and cook for no more than 5 minutes. Drain the asparagus and place it in a bowl of cool water for about 5 minutes to refresh it. This will help it retain its colour. Drain and pat dry.
Step 3

- Arrange the salad leaves in a serving dish and place the tuna on top. Sprinkle with lemon or lime juice. Arrange the asparagus and cherry tomatoes over the tuna. Garnish with the basil.
Step 4

- Pour the dressing over the salad and season with salt and pepper to taste.