A bowl full of goodness for your brain and overall health
Posted on : February 25, 2020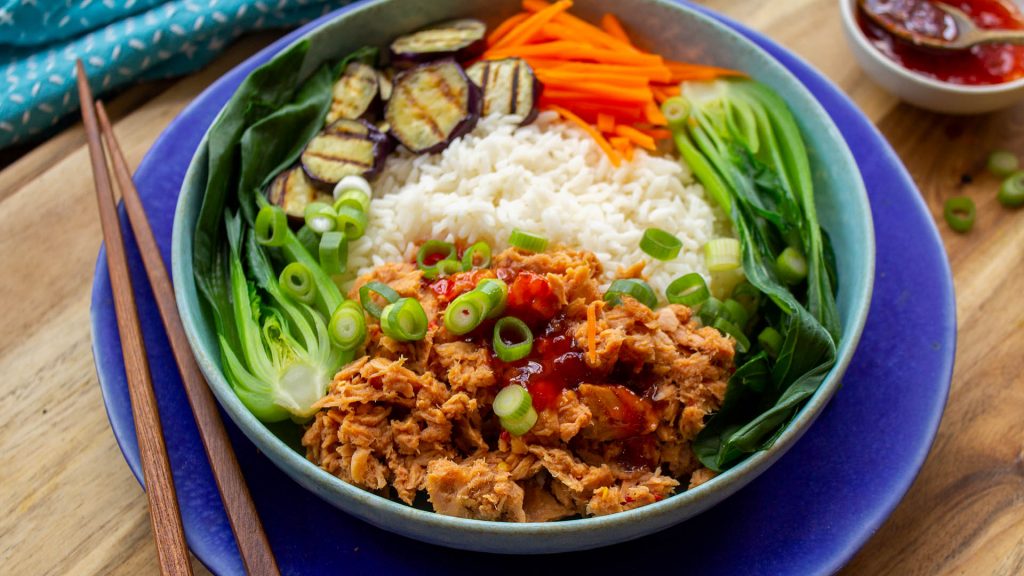 by Ashleigh Feltham
Accredited Practising Dietitian and Accredited Nutritionist
If you are in the mood for an Asian inspired meal, then look no further than this Thai sweet chilli tuna rice bowl. The Safcol tuna Thai Sweet Chilli will boost your brain, cholesterol and skin health with a good dose of omega 3 fat.
Looking into the other ingredients, eggplant is a great source of antioxidants, needed to help prevent free radicals from causing damage to your cells. Carrots will help keep your immune system strong with the fat-soluble vitamin A. Vitamin A also helps support your eyes to maintain optimal function. Another way to boost your immune system is with the onion which contains a compound called Quercetin. This has especially high antibacterial properties. The final star to mention here is bok choy which is a nutrient-dense low-calorie powerhouse! A key nutrition highlight is that it is a good source of folate, very important for repairing any damage done to your DNA as well as being vital for anyone wanting to conceive.
Enjoy this culinary journey to Asia knowing that your taste buds and body will thank you for the meal.
Try our Thai sweet chilli tuna rice bowl. Serving 2 people in just 10 minutes. Because everyone needs a bowl full of goodness for your brain and overall health.