Pizza — Healthier Than Cereal for Breakfast?
Posted on : April 6, 2022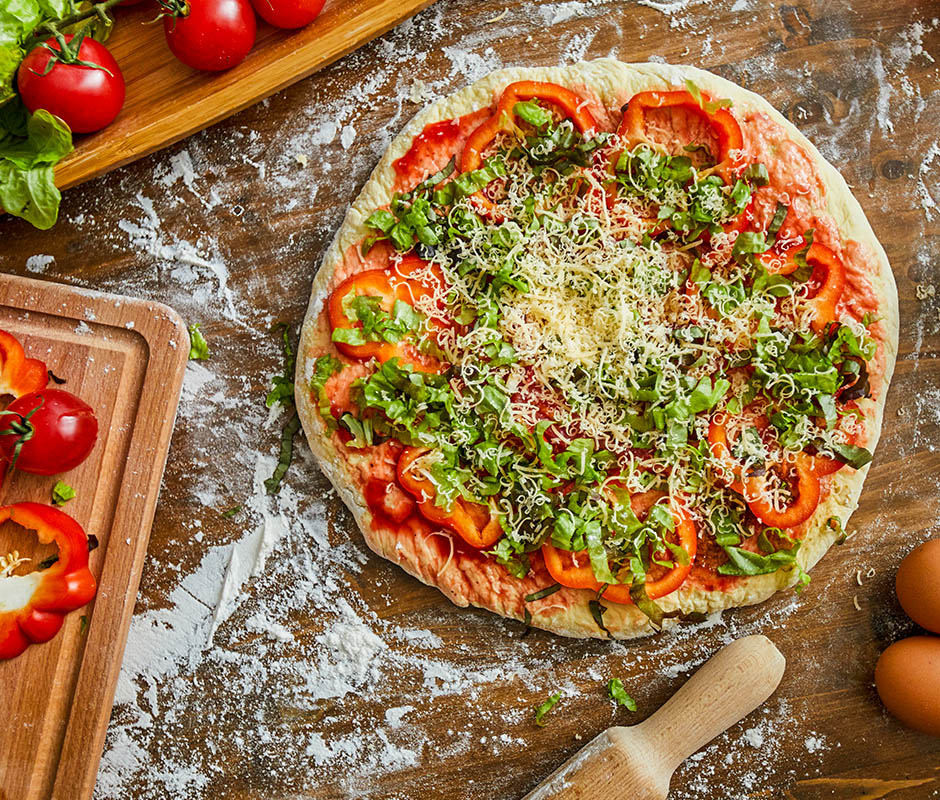 by Ashleigh Feltham Accredited Practising Dietitian and Accredited Nutritionist
If you were asked the question, "Is it healthier to have pizza rather than cereal for breakfast?" you would most probably reply, "No way!" But you may be pleasantly surprised to learn that you could be wrong. It all depends on the quality of both the pizza and the cereal in question. If you were considering ordering a pizza from a fast-food chain or a bowl of oats, then yes, the oats will always win. But if you are planning on making your own pizza using a wholegrain pizza base, a no added sugar and low salt tomato paste, lots of grilled vegetables, lean protein and a reduced fat cheese, and comparing that to a bowl of Coco Pops, then the pizza wins hands down as the healthiest breakfast choice.
The good news is that you don't have to choose between the two, and the trick is to choose your ingredients wisely. Here are some easy ways to help you enjoy both pizza and cereal for breakfast, alternating between the two while maintaining a healthy diet.
Breakfast cereal
When selecting a breakfast cereal, take a moment to peruse the ingredients and nutrition information on the packaging. Make sure that there is less than 15g/100g of added sugar, less than 120mg/100g of sodium for a low sodium meal or less than 400mg/100g of sodium for a moderate sodium meal. Aim for less than 10g/100g of total fat, less than 3g/100g of saturated fat and more than 3g of fibre per serve. For milk, go for one with less than 2g/100g of total fat. For sweetness, add a serve of fruit. Sprinkle over some cinnamon instead of sugar or honey. Make these simple swaps and you'll be removing excess added sugar while adding more fibre, vitamins and minerals, and antioxidants.
Pizza
When choosing a tomato paste, use the above guidelines. The goal for cheese is to aim for less than 15g/100g of total fat. For your meat topping, rather than scattering processed meats over your pizza, choose lean meat like chicken or turkey breast with any excess fat removed.
Processed meats should always be avoided, as they have been linked to cancers, including stomach and colorectal. Processed meats are also high in sodium, which increases blood pressure. Another delicious and healthy alternative to processed meats is seafood. Scatter over flakes of Safcol salmon or tuna, or try Safcol's succulent sardines strewn over your pizza. Take a look at the wide range Safcol has to offer and add more flavour and texture to your pizza. Other meat alternatives you can use as a pizza topping include eggs, tofu, legumes, nuts and seeds.
When it comes to your pizza base, try a wholegrain pizza base. Wholegrains will give your body more fibre, vitamins, minerals and antioxidants than a refined white flour pizza base. And go nuts with vegetables! Less than 4% of the population eats enough fruit and vegetables.
Add a small side salad for an even bigger win. And rather than seasoning with salt, opt for a sprinkle of herbs and spices, which provide your body with antioxidants as well as a tremendous burst of flavour. Need inspiration? Check out the pizza recipes on the Safcol Seafood website.
---
Take home message
You do not have to take sides when it comes to the pizza versus cereal debate at breakfast. By making smart choices and clever substitutions, you can enjoy both during the week, all the while increasing the variety in your diet, which is going to give your body a whole host of different health benefits.